Anyone who has ever tried to make spaetzle using their hands will tell you how time-consuming and difficult this process is. There is an answer to this frustration. The answer is the spaetzle maker. But what is a spaetzle maker? This is a kitchen utensil made with aim of helping cooks make spaetzle noodles German-Style. Anyone wanting to make this food must consider this an essential tool in this day of technology where your time equals money. It goes without saying but you should always use the best product that's available to you.
This article seeks to discuss this utensil with the aim of giving you more information so that in the event that you want to buy yourself one, you have all the information you require. We will look at the advantages of using this machine and also give some tips and tricks on how to make your spaetzle maker do a better job for you. We have also gone into the market to check out the 10 best products which we present at the end of the discussion.
Top Picks : 5 Best Spaetzle Maker

The Two Different Types Of Spaetzle Makers
Basically, you will discover that there are two varying types of spaetzle noodles. Therefore, anyone trying to buy a machine for making spaetzle will need to have a general idea of the type of noodles they want to make. If you want to make the larger thinner noodles, known as Spätzle in the German language you will require a kitchen utensil that is potato ricer-like to be able to make them. The thicker ones, called Knöpfle in German, are going to require you to have a utensil that you will put on top of the pot.
10 spaetzle maker reviews
1. Spaetzle Classic Round Noodle Maker by Westmark
The Spaetzle Classic Round Noodle Maker is the perfect solution for someone who wants to make those long strands of spaetzle that look more like noodles as opposed to dumplings. The dimensions of this utensil are 3 inches in diameter, 16 inches in length, and 3 ½ inches in depth. It is designed to work in the same way as a potato ricer. The spaetzle maker is equipped with a press that takes the form of a circle. This press gets the dough to go down via the perforated underneath of the container. This is the secret behind the neat, thin, and elegant noodles produced on the other end of the process. You can make both long and short needles depending on how far the utensil is to the water.
On top of that, you can count on a special handle that fits snugly into your hand. Thanks to this ergonomic design, you can make noodles with this contraption all day long and not get fatigued along the way. (Well, it's tough to get tired while making noodles, to be fair – but your hand can get quite sore.)
Also, on the front side of this Westmark tool, there are three grooves designed to fit various pot sizes. This way, you can rest this thing onto the edge of the container with boiling water and then squeeze the freshly made noodles straight into the pot!
Pros:
Classic hole layout
Easy to dismantle and clean (there's a safety fixing pin)
Made out of high quality coated aluminum
Flattened handle
Grooves for resting this tool directly onto the pot of your choice
Can be used for purees, noodles, mashed potatoes, and other similar pulpy food arrangements
Cons:
Some users have reported difficulties with cleaning
For some users, pressing down on the handle can be too difficult (probably older folks and people with hand injuries)
2. Norpro Spaetzle Maker
If spaetzle is a name you find difficult to pronounce, this must not mean that it should be equally difficult to make. At least this is what Norpro Spaetzle Maker has decided to make sure of. The utensil is made from durable and hygienic stainless steel. To use this utensil, you will need to run the hopper along the surface that does the cutting. The dough shaped through the perforations at the bottom will fall straight into the waiting pot of boiling water at the bottom. When working with this utensil, you will have to take care as you work the dough on top of boiling water. If due care is not taken, this can become quite dangerous to the operator.
When it comes to the materials the Norpro folks used to make this thing, other than the high-quality stainless steel, there's also the special food-grade plastic that is durable enough to allow you years of service without breaking.
Pros:
Simple design
Made out of high-quality stainless steel and food-grade plastic
Works for making pasta, dumplings, and especially the world-renown German Spätzle
Easy to use
Cons:
This tool cannot be washed in the dishwasher
Some users have reported about the handle getting wiggly the more you use it
3. Danesco 1142155 Stainless Steel Spaetzle Maker
If you are looking for a fine unit with holes that are just the right size for the perfect spaetzle, you will need to use a good product such as the Danesco 1142155 Stainless Steel Spaetzle Maker. The one thing you will like is that the hopper and the bottom of the Danesco 1142155 are actually plastic. Our opinion is that plastic works a lot better than metal when it comes to parts that keep moving along each other.
On the other hand, the actual holes and the rest of the construction of this Spätzle maker are made out of stainless steel, so you can rest assured that this thing will be able to survive a nuclear blast. (So, if there is a nuclear war in the future, at least you can console yourself with the fact that you can still make some great Spätzle!)
What's more, thanks to its simple shape and sturdiness, this kitchen utensil is 100% dishwasher safe, so you won't have to clean it by hand.
The plastic parts also ensure that things do not get too hot while you are working over boiling water. Go ahead and impress your guests with your German cooking skills.
Pros:
Made out of solid stainless steel
Easy to use, even for beginners
Durable metal and plastic parts
Dishwasher safe
Cons:
The handle can get pretty hot
Some customer have complained about short and lumpy noodles
4. Kuchenprofi 18/10 Stainless Steel Spaetzle Plane
The aim of the original maker of the Kuchenprofi 18/10 Stainless Steel Spaetzle Plane was to ensure that the kitchen is equipped with utensils that are not only affordable but also functional. These tools are made to make your cooking enjoyable while at the same time satisfying. The makers of this product indicate that when they made this tool, they were driven that by the need to meet the demands of cooks which are quality, functionality, and strength.
So, what they came up with was this – a tough stainless steel Spätzle-makin' kitchen utensil, which can be easily used by virtually anyone. All you need to do is fill up the container thing with dumpling batter and then slide it back and forth along the surface of the tool to get excellently shaped noodles in no time.
Also, similarly to the model above, this thing is dishwasher safe, so you won't have to clean up each hole separately, which is often the most irritating part of owning and using these tools.
Pros:
Made out of 18/10 stainless steel
Easy to use
Dishwasher safe
Large working surface
Cons:
The metal can get quite hot during a dumpling-making session
There's no stopper at the other end, so you have to make sure you don't go over (not to terrible a problem, though)
5. Zoie + Chloe Stainless Steel Spaetzle Maker
So you have visitors and you have decided to impress them with original German spaetzle? Worry not. There is s product specifically made to make your life a whole lot easier. That product is the Zoie + Chloe Stainless Steel Spaetzle Maker. If you want a great variety you can add some spinach to make the spinach spaetzle. If you are in the mood for something with cheese, add some to make cheese spaetzle.
The working principle behind this thing is simple enough. All you need to do is fill up the rectangular container thingy with some previously prepared dumpling batter and then slide it back and forth to make the fresh dumplings fall through the holes below. Once you finished, you can simply put this thing into your dishwasher and clean it along with your other kitchen utensils! What's not to love?
Pros:
Made out of premium 18/10 stainless steel
Easy to use
Strong and comfortable handle
Creates uniform Spätzle every time
Dishwasher safe
Cons:
The edges can cause cuts if you're not careful with them
The whole thing can get quite hot after using it over a pot for a while
6) HICOOK Stainless Steel Spaetzle Maker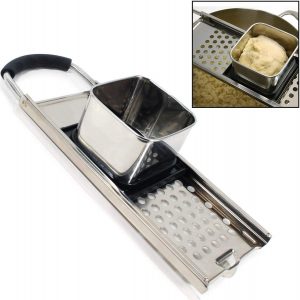 If traditional German Egg Noodles are what is on your mind for your next weekend party, this stainless steel spaetzle maker from HCOOK can be your best bud. When making spaetzle, even with a tool, things can get messy, sticky, and slippery. We are talking about dough, after all! It is bound to be sticky. 
Not to worry when you have this traditional-style spaetzle maker with a twist. The twist is that it comes with a soft handle made of Santoprene that provides a good grip. So, go right ahead and make a mess. Your spaetzle maker will ensure that your tool does not slip out of your hands. 
While making these delectable German noodle dumplings, the dough will inevitably end up scratching the stainless-steel surface. HICOOK has you covered there, too. It comes with a plastic slider that prevents such scratches. 
Pros:  
Anti-slip handle with excellent grip

 

Plastic slider to prevent scratching and staining

 
Makes noodle dumplings of uniform size

 

You may use it directly on a pot of boiling water

 

Dishwasher safe

 
Cons:  
You must clean it right away otherwise the dough sticks to the tool

 

The dough-box must be pulled across the grates, which can be cumbersome

 

The loosely fitting plastic tray over the thin steel may cause loss of dough

 
7) Gourmex Spaetzle Noodle Maker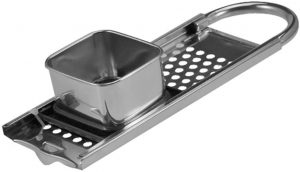 Plastic may be fun to look at and easy to handle, but let us face it, a common complaint with plastic dough boxes is that they do not last as long as the steel grater. Well, here is a solution. Bring home the all-steel spaetzle maker that gives you your deserved peace of mind when it comes to the longevity of the product.  
Additionally, the hopper is quite large for preparing bigger batches of spaetzle. Just moved into a new house? Want to impress the whole of the neighborhood? Why not? Call everyone over for a grand dinner. This noodle maker is sure to aid you in making your first impression as an excellent cook of German cuisine. Plus, it is super easy to clean after all your guests have left. 
Pros: 
The stainless steel material of the entire product makes it one of the most durable items in your kitchen

 

The size is ideal for large batches, easy-peasy for your next cocktail party

 

You may not need another 

one in your life because this is made of high-quality material

 

Dishwasher safe and extremely easy to clean

 
Cons: 
The "easy-to-clean" characteristic has a catch – you must ensure that you place the parts of the spaetzle maker in soapy water right afte

r use

 

The all-steel material can be a bit sharp, so you need to be careful as to not cut your fingers

 
8) Goldspatz Spaetzle Board and Scraper
If authentic Swabian spaetzle of elongated shape is a hot favorite in your home, then this tool must find a permanent place in your kitchen. Unlike the grater-slider combination of the spaetzle makers, this tool by Goldspatz boasts of a board and a scraper. It is almost like a potato-ricer, so if you have used one before, this should be fairly simple.
The board is made of good-quality wood that speaks for its longevity, and the scraper is made of stainless steel to give higher strength and durability. Overall, if simplicity and originality are what you are looking for, go for this board-scraper combination. 
The tool also comes with an excellent recipe book, so you do not have to rely on YouTube every time you want to make some new dish of spaetzle.  
Pros: 
The wooden board and the steel scraper have a nice feel to them

 

Dozens of ideas to garner from the included recipe book

 

Good-quality wood ensures it holds up well against steam when placed over a pot of boiling water

 

Makes noodles fairly quickly

 
Cons: 
The technique of making spaetzle using this tool could take a while to master.

 

You have to hold the scraper over the boiling water, and the steam might be uncomfortable for your hands

 
9) NAF Imports Homemade spaetzle making tool

In this century, most kitchens are equipped with a large number of tools. And when you talk about detachable parts that go into the dishwasher, well, you can safely presume that it is challenging to find which part goes into which tool after the washing is done. 
To counter this, why NAF Imports have designed this colorful spaetzle maker that helps you identify the parts quickly when lying around in the dishwasher. When there is a party coming up, you already have too much to do. You do not want to waste time trying to attach a slider to your regular grating machine and then wondering why it is not working. 
Apart from this advantage, NAF's spaetzle maker is your regular grater-style tool that churns out uniformly shaped noodles over the boiling water. And of course, its safety pusher ensures the batter-box does not move too fast, and you do not hurt your fingers while trying to whip up delicious dinner.  
Pros: 
Colorful parts make it easier to locate the tool in a hurry

 

Safety pusher ensures there is enough batter in the box so that you do not accidentally hurt your fingers on the stainless steel

 

Makes unifo

rmly-shaped spaetzle

 
Cons:  
The plastic parts are not as durable as the stainless-steel parts, which means in a few years, you would probably end up using it as a grater
https://amzn.to/3p1ZBgk
10) HIC 13-inch spaetzle noodle dumpling maker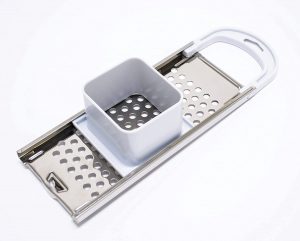 Big family dinner tonight? What? Everyone's coming, including uncles, aunts, nieces, and nephews? Well, you do need a big batch of spaetzle for sure. Thanks to this 13-inch spaetzle maker, you can easily prepare a sumptuous meal no matter how large the number of your guests is. 
This noodle maker from HIC is another slider-grater combo with a safety pusher. So, when you prepare that hearty meal, you do not have to worry about hurting your fingers. Also, making spaetzle can be tiring even with tools, which is why this noodle maker comes with a comfortable handle to give your hands much-needed rest. 
Drop uniformly-created spaetzle dumplings straight into the boiling water, cook them evenly, and serve alongside a hot soup and some veal for a complete, festive, and wholesome dinner. 
Pros:  
Makes doze

ns of dumplings at one-go

 

The safety pusher ensures your fingers do not bear the brunt of the grating

 

Its handle with a good grip means you can keep at it for a long time (when making a bigger batch)

 

Easy to clean parts

 

Reasonably priced

 
Cons: 
Although the noodles can be dropped straight into the water, they fare better when prepare beforehand by placing the tool on a sheet of flour

 

This tool cannot be placed into a dishwasher

 

The hopper may not last as well as the grater and you may need a spat

ula to press down the dough for easier use

 
How Spaetzle Makers Are Used 
When you look for a new spaetzle maker you will discover that there are basically two types. The way this utensil works depends on the type that you have bought. The one which is lid like comes with a scraper. You make your noodles by scraping on the surface of the utensil.
Then there is the one that looks like a greater. This spaetzle maker comes with a component that you push back and forth. You make your noodles by pushing this pusher forward and backward.
Advantages And Disadvantages Of A Spaetzle Maker
The advantage of using this machine is that it is probably one of the easiest to use. It is a much cheaper option than having to invest in a whole noodle-making machine. You will also save a lot of your time when you use this machine. The only thing we really do not like about this machine is that apart from making spaetzle, there is pretty very little else you will ever be able to use it for in the house.
Tips And Tricks On Getting Your Spätzle Maker To Work Better 
When you buy this utensil, we recommend that you specifically insist on the material being stainless steel. When it comes to the pusher, you will have a choice of selecting between a plastic pusher and a stainless steel one. We recommend the plastic one as this one will possibly be able to withstand the friction caused by you moving it back and forth while making your noodles.
If you have ever used a potato ricer, then you have an idea of how this product works. We will let you in on the secret that a potato ricer can also be used for the same work you use your spaetzle maker. The main advantage of using a spaetzle maker is that it has been made specifically for this process, so you do not have to improvise anything. As a good cook, you want to use the right utensil for the right job.