(Cavatelli Recipe Included at the Bottom)
Are you looking for the perfect comfort food? Think cavatelli. Cavatelli is pasta made into one of the most delicious shapes you will ever lay your taste buds on. But what is cavatelli pasta? This kind of pasta is formed from a semolina dough which is made without adding eggs using a cavatelli pasta maker.
This results in a thick and chewy pasta made in a way that sauces that often accompany pasta can stick to it. The value of this pasta is in its scarcity. It was never designed to be manufactured in large quantities.
If your plan is to enjoy your cavatelli, then you will have to make them from the beginning. Do not panic yet! This is not a difficult thing to do. You just need to make use of the best cavatelli pasta maker in the market. Later on in this article, three of the best machines currently in the market are overviewed to help you make an informed decision.
What to look for in a Cavatelli Maker
While cavatelli pasta is a tasty treat to have, not all machines are the same. You will need to carefully assess your needs before you buy.
The first thing that you will consider is size. Depending on how much you plan on making at a time, you want to make sure that the machine can accommodate doing so. If you are planning on having a lot of parties, then you may well want to pick up the biggest cavatelli maker that you can afford.
The next thing that you will need to consider is the price. Remember, quality does not come cheap. A high-quality pasta maker will cost more than one with lower quality components.
It is also worth noting that cavatelli machines are not designed to last for more than 10 years. As such, you want to make sure that what you are buying will last.
If the cavatelli machine is easy to clean, then this will save you a lot of time when it comes to prepping for making your next batch. The easier the clean-up is the more likely you will continue using it in the future.
Experts Picks: Top 5 Cavatelli Pasta Maker Machine
Why It Is Better To Use A Cavatelli Pasta Maker
While cavatelli was originally made by hand, if you are looking for the real deal, then you want to use the right cavatelli machine.  Using a cavatelli machine allows you to make the best pasta which is just like the original that is made only in Italy. The machine allows you to make the perfect cavatelli whether you want it smooth or ridged.
The machine rolls a trip of pasta when you turn the handle. While cutting the pasta, the machine automatically cuts and rolls the pasta into shape. This ensures a great-looking and consistent product.
The Top 9 Cavatelli Makers 
1. Fante's Cousin Elisa's Cavatelli Maker Machine
(My Recommendation)
If you are looking for authentic stuffed pasta, turn to the Fante's Cousin Elisa's Cavatelli Maker Machine. This machine is designed to form and cut a lot of cavatelli pasta with a shape that is just right accompanied by the texture that will hold whatever sauce you will use with it.
This machine is made to create homemade cavatelli that is uniform in size and tastes better than anything else you have eaten. The cavatelli pasta maker comes equipped with a clamp to help you secure it to the countertop. However, it's important to flour your dough well to avoid getting it stuck on the gear. Then you should run it accordingly to get perfectly shaped cavatelli.
True, this HIC Harold Import Co. item involves a comparatively difficult learning curve, meaning that, you'll need lots of practice to prepare your pasta from this vintage machine. Still, the way this inexpensive model encourages the making of multiple items at home, there's little chance to complain about its performance.
Constructed out of quality wood, the unit maintains a certain mass and thereby, ensures a stable position while rolling the gnocchi. And once you're done with the dishes, cleaning is a cakewalk. Finally, with your brand new machine, you will get the clamp, a set of instructions, and some recipes.

2. Cucina Pro Cavatelli Machine
The Cucina Pro Cavatelli Machine is designed to help you make pasta seashells that are the closest to the traditional thing. The machine still sticks to the original design, comes with instructions on how to use the machine and some recipes.
When you buy your pasta maker, you will notice that the hand crank is reversed. This is made so that it can fit into the box. You can easily turn this around with a thumbscrew provided.
Versatile in its usability, this cavatelli maker helps to make pasta, seashells, gnocchi, and whatnot! Straightforward to use and clean, its stunning stainless steel structure is perfect for cooking delicious recipes.
It's easy to use. However, while working on it, keep your fingers safe since the handle is located closer to the clamp. One thing to note – you must prepare the dough a little bit stiffer than usual. Otherwise, it may fail to produce the pasta in your expected shape.
No cleaning issue means you can use the maker without worrying about the future hassle. And due to its compact size, you can fit it anywhere once done. The downside? A few users found its hard plastic-made rollers disappointing, thinking that a wooden one would be a better option.

3. Cavatelli Maker With Hand Operated Rollers
Professional grade, this Cavatelli Maker by King Cole is manufactured keeping both domestic and commercial use in mind. The rollers are non – sticky and don't let the flour dough cling while working. To make the process unfailing and smooth going, make sure the dough isn't excessively drenched and dry enough to prepare a large amount of cavatelli in one go.
Another good thing about the unit is – it's straightforward to use, and both amateur and DIY enthusiasts can hope to get a better result consequently.
The few uncomplicated steps you require to follow are –  smoothening the pasta, cutting them into small shreds, sliding into the rollers, and finally, the machine will keep on cranking out beautiful cavatelli. Having your dough in proper texture and consistent shape are the prime keys, though!

In terms of taste – you will love its savory flavor, meaning that, no compromise with quality is ensured. And since there's little concern associated with cleaning the unit, you can take the liberty to sprinkle a sufficient amount of flour over the cavatelli to avoid unwanted stickiness. Besides, rinsing with water is not mandatory. Merely wiping it out with a dry cloth is enough to store it for future use.

4. Little Mama Gnocchetti/Cavatelli Pasta Machine
Only a few models come with the feature of working with both whole grain and gluten-free flour, and fortunately, this Cavatelli Pasta Machine by MAMMA MIA falls into this category.
Using this professional-grade Italian device is very easy. Start with setting it on a tabletop, and then fasten it tightly with the clamp to ensure the utmost balance and firmness.
It's versatile and can produce both flat and ridged kinds of pasta. Putting the pasta roll in the middle area of this cavatelli maker, you'll get half flat and half ridged pasta. Therefore, it's essential to choose either the inner or the outer side of the roller to go for any specific type.
The included 8 recipe books make it a thing of joy for food cravers. However, the only language available in Italian, so that may not be comfortable for worldwide use. Other than that, their presentation in a gift box adds a legacy to the idea.
And after you're done with cooking, no matter what recipe you've prepared, cleaning the machine won't be a difficult task. Its easy-to-clean formula involves simple scrubbing with a knife or any other pointy stuff like the toothpick. After that, wiping it with a damp rag will be enough for lasting service.
5. Paderno World Cuisine Cavatelli Maker
Cavatelli is smaller in size than pasta and can take a wrong turn if you pick the wrong machine for the purpose. That being said, having a well-thought-out design, the Paderno World Cuisine Cavatelli Maker is ready to serve you out of the box. It's a great time saver and can produce bunches of perfectly shaped cavatelli in no time.
Talking of its structure – the device is plated with aluminum for outer protection while the inner area has got stainless steel blades that are way too good in cutting the flour dough in cavatelli shape. The ABS rollers simplify the unit's workability making it more comfortable and nuisance-free for having your homemade pasta ready.
Unlike other fragile items available out there, it won't break down after a certain period of time. That is, its sturdy construction is meant to last longer with the same amount of durability that any new model offers.
On to the cleaning issue – it takes absolutely no toll to remove the residual flour stuck with its rollers. Thanks to its non-stick finish, you can get it clean solely by washing it with warm water. Not recommended for dishwasher, though!
6. Cuisinox Cavatelli Board
 
Sometimes, going traditional is the best option. Sure, machines are great, but if you want the authentic feel of making pasta by hand and yet do not want to do all the tedious work, here is your solution.
The Cuisinox Cavatelli Board gives you the option of making cavatelli the traditional way, yet without too much effort. 
The board itself is made of beech wood, so longevity is guaranteed. It measures 8 by 5 by 1 inch and hence is perfect to be comfortably held in your hands. The best part is that the board comes with uniform grooves, so you need not worry about making consistently shaped cavatelli just because you are implementing a more traditional approach. 
It is not just cavatelli, either. The board is versatile enough to be used for other purposes. For example, if you have guests coming over and you want to surprise them with butter balls, your Cuisinox cavatelli board comes to the rescue. Also, its simple layout makes it super easy to clean and store. 
Is there a downside? Yes, it can take a bit longer to prepare the cavatelli using this method, because, well, it is a simple board and not a complicated machine. But it is not hard to learn and once you master the skill, the process automatically speeds up. 
7. Electric Cavatelli Maker from CucinaPro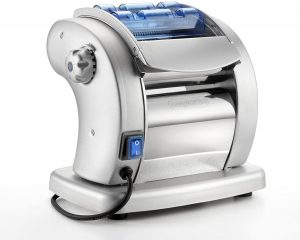 Cavatelli might be the reason you are looking up these reviews, but what if you change your mind and want to make different kinds of pasta without worrying about too much manual effort? If you are thinking on those lines, look no further than this CucinaPro electric pasta maker.
This is one of the best cavatelli makers, making your job of making pasta unbelievably easy. You do not have to do a thing. Just hand over the dough to the machine and it churns out beautifully shaped pasta in a few minutes. 
The electric pasta maker comes with two built-in cutters, one for fettuccine and the other for tagliatelle. But it also has several other attachments for you to make any of the pasta you are craving. For cavatelli, a special attachment called the Milleghocchi attachment is all you need. Do not worry, it comes with the box. Just plug it in and get yourself uniformly-shaped cavatelli, all ready to cook. 
The one obvious advantage of using this machine is, of course, no hand-cranking, because the electric motor does all the work for you. But there are other benefits as well. For one, it is easy to clean because it has a non-stick coating. No more sticky dough! Secondly, it does not require a clamp and can fit anywhere on your kitchen countertop. 
Of course, so many advantages come with a price tag. So, if you are on a budget, this may not be the right purchase for you. Also, it may not fit the bill for those who want to go through the hand-cranking experience. 
8. BakeDeco Cavatelli Maker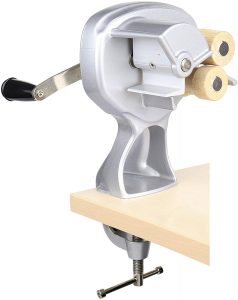 If you are a beginner and have no clue how to make cavatelli, you need a more traditional machine, which is simple to use. That is the promise that is delivered by the aluminum-based BakeDeco cavatelli maker. 
This cavatelli-making machine looks so simple that even a child can use it. Even though the body is made of aluminum, the machine features wooden rollers.
Thanks to the texture imbibed within these rollers, your dough moves smoothly to create uniformly shaped pasta. It can also churn out different sizes of pasta shells. So, feel free to go ahead and experiment with various kinds of sauces. 
Apart from the fact that the dough moves effortlessly through the rollers, the cavatelli maker also comes with the distinct advantage of a light and easy-to-turn handle. So, for beginners who are apprehensive of hand-cranking their pasta, there is no need to panic.
You can make well-shaped pasta in no time because of the machine's simplicity. Also, the product boasts of a clamp that can be easily fitted onto a corner of a table of any width. 
It can sometimes be difficult to produce the exact shape of pasta that you want with this machine. Remember, this machine is for beginners, so if what you are looking for is a 100% professionally shaped pasta, you may need to invest in a more complicated machine. 
9. Imperia Gnocchi and Cavatelli Machine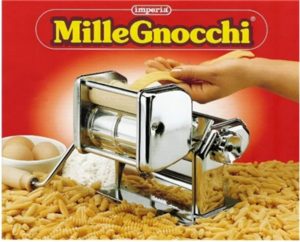 Are you a brand junkie? Then listen up. Here is a top-quality cavatelli maker from one of the most renowned brands in the world. Imperia brings you a well-designed and easy-to-use machine that creates excellently shaped pasta with minimal effort. The best part is that you can use this machine to make gnocchi as well when you are in the mood for those delectable Italian dumplings. 
The pasta maker is a dream to set up and use. It features a removable knob that makes it super easy to clean. Just set up the machine at the corner of any table with its sturdy steel clamp, ready the attachments, and start making cavatelli of a size and shape that suits your palate. 
If you are new to preparing cavatelli-based dishes, or any pasta-based items for that matter, Imperia can help. The product comes with a recipe book with a variety of menus to choose from. So, anytime you want to make cavatelli on a whim, just grab that book and gather the ingredients instead of spending time on Google.
Experiment with various pasta shapes with this machine and give your culinary instincts a chance. 
It is a bit on the pricier side when you compare with some of the other hand-cranking pasta machines available online, but the quality makes up for the extra dollars you invest. 
What is Cavatelli?
Cavatelli is a form of pasta that reminds you of warmth and comfort. It is traditionally made with semolina and shaped like small shells and can be both rigid and smooth on the outer surface.  
The name cavatelli means "little hollows" in Italian and when you look at them, you would know why. These little shells have tiny crevices in between to hold sauce in and if there are ridges on the exterior, there is no problem with dunking them into a chunkier sauce. 
Cavatelli is special because it is not easy to make this kind of pasta. Traditionally, these shells were hand-made. Pasta makers of old times used a single finger to roll the dough and get the shape of these small shells.
Of course, you can imagine how long it took to create uniformly shaped shells of such small size. And needless to say, precision plays a major role in how the pasta is finally cooked.  
This kind of pasta has seen many variations over the centuries. There are several local names as well. Some popular alternative names are orecchie di prete and pizzicarieddi. Then there is also the parmatieddi variety that is slightly larger than the average cavatelli and is rolled into shape using three fingers instead of one. 
Homemade Cavatelli Recipe Using a Machine
To make cavatelli using a cavatelli machine, first, you would need to prepare the dough. Of course, you can mix the dough with your hands, but it saves a great amount of time if you use a food processor. After all, that is why you are using a machine in the first place – to save time!  
Here is how to make the cavatelli (the measurements whip up 4-5 large portions of cavatelli). 
1) Mix 2 cups of flour, an egg, 8 ounces of ricotta cheese, and a teaspoon of salt 
2) Process the mixture using your food processor's dough blade 
3) Start to add a teaspoon of milk at a time and continue to process the mixture until a soft dough is formed 
4) Remove the dough and knead it with your hands a couple of time for additional smoothness 
5) Cover the dough and keep it aside for 15 minutes 
6) After the dough is well-rested, form a perfect rectangle with it that measures � an inch in thickness 
7) Cut up this rectangular dough into strips that are 3 quarters of an inch wide 
8) Dust the rollers of the cavatelli maker with flour to prevent the dough from sticking 
9) Dust each strip prepared in step 7 and run them through the cavatelli maker 
10) That's it! You have got beautifully-shaped cavatelli, ready to be used in your favorite recipe 
How to Cook Cavatelli
Alright, now you have successfully used your cavatelli maker to create uniformly-shaped pasta. But is there a specific way to cook it?   
First of all, after you are done creating those shapes using a cavatelli maker, you need to lay them on a floured baking sheet at room temperature to allow them to dry, say for about 30 to 45 minutes.  
Once they are dry, you could store the pasta either in air-tight containers if you are going to use it in a few days, or freeze it in moisture-free bags. Freezing the cavatelli allows you to use the pasta any time within the next three months.  
So, you can always prepare a large batch and if you ever have surprise visitors, you can be assured that there is a quick-fix dinner available in the freezer. 
Now, when you decide to cook the cavatelli, the process is quite simple. First of all, heat a pot of water on the stovetop along with some salt. Once the water starts to boil, throw in the cavatelli that you prepared with so much diligence using your cavatelli maker.  
Next, wait for the cavatelli to cook. You will know it is done when you see the little shells float to the surface of the water without going down again. 
The time taken to reach this stage depends on the temperature of the cavatelli. Typically, it takes about 5-8 minutes if your pasta has been sitting at room temperature.  
However, there are times when you just have to grab a bag straight from the freezer and pour it into the boiling water. In such cases, you may have to give a few extra minutes. That's about it. Your cavatelli is all done and ready to be used in a sauce. 
What Goes Best with Cavatelli?
The best thing about cavatelli is that despite its tiny size, it goes well with chunky sauces. This is because the sauce gets to seep into the crevices of the shells. And of course, if you have made the ridged variety of cavatelli, the sauce also gets a chance to stick to the surface.  
So, go ahead and prepare some of your heartiest meat-based sauces and dunk the homemade cavatelli in it for a sumptuous meal. Think sausages if you need meat ideas.   
If you want vegetarian options instead, go for a veggie-based sauce. Big chunks of broccoli with ricotta cheese typically go well with cavatelli.  
And if you are feeling lazy and have a bottle of pesto sitting in your fridge, no problem. You can simply mix the cavatelli with the pesto and make a quick dinner out of it.  
As for wine, pick up a bottle of light or medium-bodied red wine to pair with your cavatelli dish. White wines that have balanced flavors of grapes are also a good call. Cook, serve, and relish! 
Tips And Tricks On How To Get The Best From Your Machine
To make your cavatelli better, you need to follow a few tricks. If you want to make good pasta using a machine your strips of dough should be kept similar in terms of their width. The strips should also be floured well so that when you pass them through the rollers they do not stick.
When the cavatelli comes out on the other end, toss them with flour once again before placing them on a baking sheet. You do not want it sticking together. Your cavatelli machine can be cleaned the same way you do with any other pasta machine. Use a clean cloth or brush to clean off any dough that may be left sticking to the machine.
The one thing that should never be done is to immerse the machine in water.
Conclusion
Cavatelli makers are one of those appliances that necessarily need not be in your kitchen collection. But when you're a cuisine aficionado, more specifically, about Italian dishes, owning your personal cavatelli maker would be a satisfying idea. So, if you're like us and love to treat your guests with homemade cavatelli any time, you must consider purchasing any of the above-mentioned machines we reviewed in this article. The features you should target to meet are easy to use, straightforward cleaning, ergonomic construction, and speed!