Quick Look – Pasta Types by Group
Long

Spaghetti
Tagliatelle
Bucatini
Vermicelli
Linguine
Fettuccine
Pappardelle
Capellini
Angel Hair
Bigoli
Trenette
Taglierini

Short

Macaroni
Penne
Farfalle
Orzo
Rigatoni
Fusilli
Conchiglie
Orecchiette
Paccheri
Rotini
Cavatelli
Trofie
Trofie
Cavatappi
Pastina
Campanelle
Gemelli
Rotelli
Ziti
Elicoidali
Strozzapreti
Garganelli
Tortiglioni
Passatelli
Calamarata
Sagne

Sheet
Stuffed

Ravioli
Tortellini
Cannelloni
Tortelloni
Manicotti
Fagottini
Mezzelune
Casoncelli

Dumpling
In this day and age, quick weeknight dinner fixes are a must in every household. Well, thank God for the pasta! All you need is a dried bag of pasta, throw it in boiling water, and add your favorite kind of sauce once it is cooked al-dente. Sounds incredibly simple, does it not? Well, that is the beauty of pasta. It can be so simple and yet so difficult, depending on the type of pasta and the sauce that you prepare.  
There are over 350 types of pasta, although they can be categorized into groups for the most part, and some shapes are more popular than the others. The different styles of pasta make it a versatile carbohydrate component of almost any meal. But for now, let us journey through the top 50 varieties of pasta and see what goes well with them.  
1) Spaghetti

Group: Long Pasta
Spaghetti is, without a doubt, one of the most popular versions of pasta. Even the ones who have never had Italian food are sure to have heard this name. This long, string-shaped variety of pasta was the first kind of dried pasta produced in Italy. Over centuries, it continued to be a favorite through world kitchens because of its versatility. While pairing with meatballs might be most common, it goes exceptionally well with creamy sauces, too. 
2) Lasagna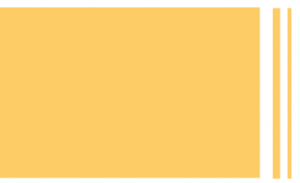 Group: Sheet Pasta
When craving something Italian, but not very keen on the noodle-like texture, Lasagna could be your go-to pasta type. This pasta looks like a flat sheet and historically got its name from an ancient crock-pot-like vessel that it was cooked in. Today, lasagna is a delicacy that can be enjoyed both with a meat-based or a veggie-based sauce. Be sure to add that ricotta cheese, though, because half the delectability of a lasagna dish lies in the way it melts in your mouth along with the cheese. 
3) Maca
roni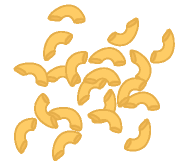 Group: Short Pasta
There is a large population across the world, and especially in North America, that swears by its bowl of mac and cheese. Yes, the simple, cylindrical, short pasta type can evoke warm childhood memories for so many! But macaroni is not just about mac and cheese. It goes well with meat-based or tomato-based sauces as well. The best part of this type of pasta is that it comes in other exciting shapes, a popular one being elbow macaroni. 
4) Penne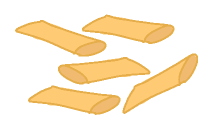 Group: Short Pasta
Another favorite found in most kitchens, penne gets its name from the word "pen", because of its tubular yet obliquely cut shape. Penne can be both ridged and plain, but the main job of its unique shape is to hold thick sauces in. This is why penne is commonly cooked with meat-based, chunkier sauces. With a bowl of penne cooked in a spicy meat sauce that includes onions and herbs, you can never go wrong with providing a hearty and fulfilling meal for your family. 
5) Gnocchi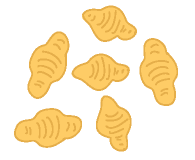 Group: Dumpling Pasta
Have you had that cute-little dumpling-shaped pasta dunked in a melt-in-mouth creamy sauce and wondered what it is called? Well, it is gnocchi, originally a kind of fresh pasta that had potato mixed with flour. In modern times, chefs often get creative with gnocchi, and not only do they try out slight variations of the dumpling shape but also experiment with other ingredients as a replacement for the potato-base. 
6) Ravioli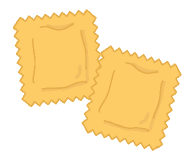 Group: Stuffed Pasta
Not much of a quick-fix, but square-shaped ravioli is the perfect choice when stuffed pasta is on your mind. What goes in as stuffing can vary, but you can place meat, veggies, cheese, or even something sweet. Ravioli can be enjoyed in different kinds of sauces but is popular as wintry comfort food when boiled in broth. Make ravioli fresh at home with your choice of stuffing or go for store-bought options. Either way, it is a treat! 
7) Tortellini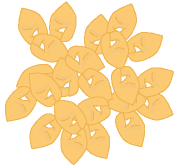 Group: Stuffed Pasta
Speaking of stuffed pasta, another comfort food comes in the shape of tortellini. This variety of pasta has meat or cheese wrapped inside a wheat pocket, which is then folded to look like a ring. It is also sometimes called the navel as the way it is folded creates the impression of a belly-button. Tortellini is an excellent food fit for those lazy weekends when you want to whip out something exciting for your friends. Simply dunk it in soup and enjoy the delightful flavors of the stuffing.
8) Tagliatelle

Group: Long Pasta
This is another variety of long pasta that looks like flattened, wide spaghetti. There is also a thinner variety called tagliolini. Originally served on special occasions, tagliatelle is now common even as a weeknight dinner fix. Although tagliatelle is versatile, it goes best with thicker meat-based sauces. That being said, there is no harm in enjoying a plateful of tagliatelle with a creamier or runnier sauce.  
9) Bucatini

Group: Long Pasta
It is easy to mistake bucatini for spaghetti. They look similar, long and narrow, but the difference lies in the fact that while spaghetti is solid, bucatini is hollow. This characteristic enables the pasta to hold more sauce in. Bucatini is also denser and chewier in texture than spaghetti. Pair it with thick meat-based sauces made with tomatoes to relish its original taste. It also goes well in soups and casseroles if your palate is craving something different. 
10) Vermicelli

Group: Long Pasta
This thinly-shaped pasta got its name from resembling tiny worms found in cheese. In Italy, where vermicelli originated, however, it used to be thicker than spaghetti. Globalization of this variety has now made it otherwise, especially in the United States. Vermicelli also has an Asian variety, made of either rice or semolina. Though it looks the same, the taste differs widely. Vermicelli cooks quickly and can be paired with a slight drizzle of oil, which makes it a perfect weeknight dinner dish. 
11) Farfalle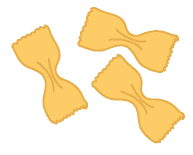 Group: Short Pasta
The word farfalle means butterfly and that is exactly how this variety of pasta looks. Some may even find its resemblance with bow ties. Because it is fun to look at, farfalle is a favorite with kids. It also holds its shape well and hence is commonly used in baked pasta recipes. It blends well with light sauces and is sometimes also used along with other varieties of short pasta. The little butterflies make the pasta a wise choice for salads as well. 
12) Linguine

Group: Long Pasta
Linguine is another flat pasta that is popular for its versatility, although it does do its best when paired with creamy sauces. Traditionally, linguine is served with pesto and fish-based sauces, especially tuna mixed with capers. Go ahead and try it out with other seafood such as mussels, clams, and more. Ideal when accompanied by a glass of fine white wine. 
13) Fettuccine

Group: Long Pasta
This type of pasta looks like little ribbons, almost like a flattened spaghetti, but not as wide as tagliatelle. But this thin structure has the modern era to thank because it is said that in the olden times of Italian cuisine, fettuccine used to be as wide as a finger. Fettuccine gels well with most sauces, be it the meat-based, thick, hearty sauce, or the creamy alfredo. 
14) Cannelloni
Group: Stuffed Pasta
Cannelloni looks like a simple, hollow tube and transforms into a mouthful of delight when stuffed with the right filling of meat, cheese, or veggies. The resultant stuffed pasta can also be baked in a variety of sauces and herbs. Or you could simply stuff some mozzarella or ricotta cheese and dunk it into a pre-made white pasta sauce. Your taste buds will thank you!  
15) Orzo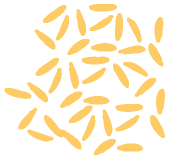 Group: Short Pasta
Well, this is one short pasta that is extremely short. So much so that it is easy to mistake it for rice! If you have ever been to an Italian restaurant and ordered the famed Minestrone, you have already had orzo, because no minestrone is complete without it. Its uniquely small shape and size make it easy to imbibe in a large variety of dishes, including salads, soups, and casseroles. And there is no problem with simply pairing it with your favorite sauce just like any other form of pasta. 
16) Rigatoni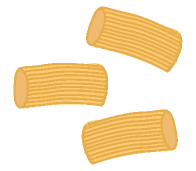 Group: Short Pasta
It is another tube pasta with ridges, kind of like penne but without the slanted edges. It is also characteristically similar to penne in that it can hold sauces in well so that you bite into delicious and smooth textures every time. Rigatoni is therefore often substituted for many dishes that call for the use of penne. Chunky sauces go well with this type of pasta and it also provides excellent structure when baked. 
17) Fusilli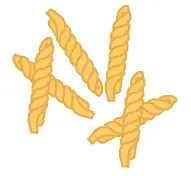 Group: Short Pasta
It is a spiral-shaped pasta that is quite common owing to its thick texture, which makes it easy to use in a variety of recipes. The numerous nooks and crevices on this pasta make it a good candidate for both thick and thin sauces. The density and added chewiness of fusilli are the reasons it can be used in salads, soups, casseroles as well as paired up by themselves with creamy or meaty sauces. 
18) Pappardelle

Group: Long Pasta
The name pappardelle is derived from the word "pappare", meaning to eat with a lot of pleasure as a child would. Naturally, the heartier the sauce, the more pleasurable the meal is. And what better than wide, flat pasta like pappardelle to hold such thick sauces? So, make your favorite chunky meat sauce or ragu, and throw in some al-dente pappardelle on it. Savor the delectable outcome on a chilly Sunday afternoon. 
19) Conchiglie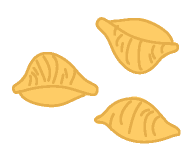 Group: Short Pasta
Conchiglie is nothing but those cute little pasta shells that you thought were fun when you walked down the pasta aisle in your supermarket the last time. Make no mistake, though. The shell design is not just for the bright looks. It is shaped that way so that it can easily hold thick or chunkier sauces. Conchiglie comes in various sizes and the larger ones are a favorite in stuffing and baking recipes.  
20) Orecchiette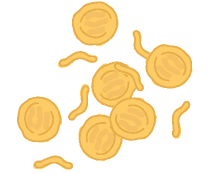 Group: Short Pasta
Originally, this unique pasta shape came from age-old huts in Italy that were slightly conical in structure. Nowadays, orecchiette looks more like tiny ears. The shape is perfect to hold the flavors of a creamy sauce or a simple tomato sauce. The edges are harder and chewier than the center, making your taste buds go through a variety of experiences with every bite. Pair it with some well-made meatballs and some ricotta cheese. Enjoy! 
21) Paccheri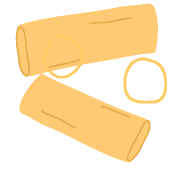 Group: Short Pasta
These are large tubes that can hold ample amounts of sauce. So, the meatier the sauce, the better for a heart-warming dish of paccheri. The pasta is so wide that you can even stuff tiny sausages, mushrooms, and thick cloves of garlic. This variety of pasta can be paired with tomato sauce and enjoyed with a garnish of ricotta cheese. 
22) Rotini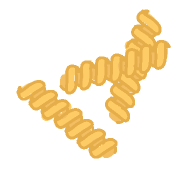 Group: Short Pasta
It looks a lot like fusilli and in fact, the two types of pasta can be extremely confusing. If you look closer, though, you will find that the spirals in rotini are tighter than the spirals in fusilli. But that does not mean rotini does not hold all kinds of sauces, because it still can be paired with all the thick as well as creamy sauces that you had loved with your bowl of fusilli. On top of it, it does well with simple oil-based sauces, too. 
23) Cavatelli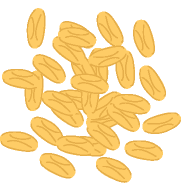 Group: Short Pasta
This variety is almost like shell pasta but slightly longitudinal in shape with a smaller space to hold any sauce. This is the reason cavatelli goes well with runnier sauces and oil-based dressings when used in salads. Also, it tastes different because it is made of semolina. It can add some unique flavor when thrown into a pot full of broccoli cooked with garlic and ricotta cheese. 
24) Tortelloni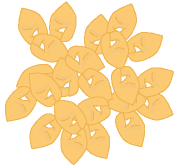 Group: Stuffed Pasta
It looks similar to tortellini but is much larger. Because of its size, you can stuff a lot more ingredients, of which, the common ones are spinach, cheese, walnuts, and mushrooms. As the stuffing itself renders a melt-in-mouth taste to this pasta, it is often recommended to be paired with thin sauces such as oil or butter with a few fresh or dried herbs. 
25) Trofie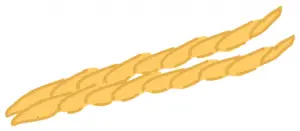 Group: Short Pasta
This thin, short variety of pasta is usually handmade. While rolling the dough, the final shape is achieved by twisting it once or twice. It cannot hold thicker sauces because of its shape and size and hence is ideal to be combined with a simple pesto sauce. Other ingredients that gel well with trofie are pine nuts, olive oil, and parmesan cheese. 
26) Manicotti

Group: Stuffed Pasta
This looks a lot like penne but has a wider hollow, which means, you can stuff it with anything, be it meat, cheese, seafood, everything goes. The outward ridges additionally ensure that sauces are held in place. So, dip these filled pasta tubes in your favorite thick sauce, whether meat-based or dairy-based and relish a hearty meal with every delectable bite. 
27) Ditalini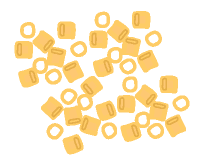 Group: Short Pasta
Another tube-shaped pasta, but it stands out for its size. It is so small that the size makes it ideal to be used in any type of soup, although it is most common as an ingredient in the famed minestrone. The size and shape also make it perfect for salads. This nutty-flavored pasta is usually smooth but also comes in a variant that has ridges on it. 
28) Capellini

Group: Long Pasta
Think thin, as thin as a child's hair, because that is where capellini gets its name from. This variety of pasta looks like it is going to break at the slightest touch, but you will be surprised at how well it retains its shape when cooked al-dente. Pair it with thin and runny sauces. It also goes well with seafood-based sauces. If nothing else, you can always dunk it in your favorite soup and relish the taste. 
29) Cavatappi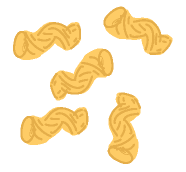 Group: Short Pasta
Cavatappi is a pasta variety that resembles a corkscrew. Think of elbow macaroni but with more twists and turns. Its hollow center and ridged exterior are excellent for holding in sauces that are thick and chunky. But it is also versatile enough to be used in salads and of course, much like its simpler cousin (elbow macaroni), is a perfect fit for macaroni and cheese as well. 
30) Fagottini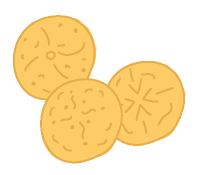 Group: Stuffed Pasta
Imagine little balls of dough shaped as round purses to hold amazing goodies. That is fagottini for you. Often stuffed with cheese, fruits, veggies, truffles, etc., this variety of pasta is excellent when paired with thin sauces. Another way to enjoy these little wonder balls is to add them to a soup and have them warm on a cold, wintry evening. 
31) Pastina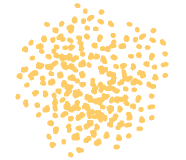 Group: Short Pasta
If you have wondered which the smallest variety of pasta is, here is your answer. Pastina is extremely small and hence is ideal for use in soups. Pastina does not come in a standard shape but chefs like to experiment with various forms such as stars, squares, circles, butterflies, and so on. It is often made of semolina, so it tastes a bit different as well. 
32) Angel Hair

Group: Long Pasta
No pasta list is complete without the mention of angel hair pasta. This variety is even one step thinner than the capellini. The thin strands of this pasta make it gel well with simple, oil-based, and/or creamy sauces. Thick sauces would just run past the strands and you will not be able to enjoy its flavor. That being said, you can still pair it with some shredded chicken for the meaty taste. 
33) Campanelle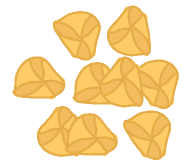 Group: Short Pasta
Campanelle looks like small bell flowers, hollow in the center, and with petal-like protrusions that give it its shape. The hollow interior makes this variety of pasta a good candidate for meaty sauces. However, considering its versatility, it is no surprise that campanelle gels equally well with cheese-based sauces or thin sauces made of any kind of seafood and tomatoes. 
34) Gemelli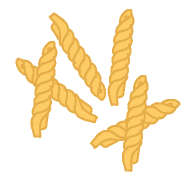 Group: Short Pasta
This kind of pasta looks like a rope. Its twisted appearance is ideal to hold sauces, so do not hesitate to pair it with your favorite kind of meat sauce. If you are not in the mood for meaty sauces, go for some herbs and some leafy veggies instead. The twists in the pasta ensure that the herbs and the leaves stick to the body of the pasta, making every bite wholesome and delicious. 
35) Rotelli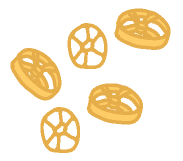 Group: Short Pasta
A small pasta shape that resembles a wheel, rotelli is a favorite among kids. It is more than a fun shape, though. Its wheel-like appearance ensures that it traps the sauce well, so, thick or creamy sauces gel well with this kind of pasta. The amusing shape is ideal for soups served to kids. Anything to get them interested in food, right? 
36) Ziti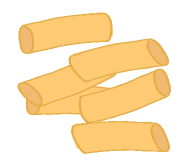 Group: Short Pasta
It is another tube-shaped pasta, but the hollow in the center is narrow. It looks like the penne but without the ridges and the slant edges. It is good with light sauces or just a drizzle of olive oil or tomato sauce as a quick-fix dinner. When you have the time, use it in a baked pasta dish or a casserole for a different kind of taste. 
37) Mezzelune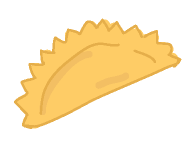 Group: Stuffed Pasta
A half-moon shaped melt-in-mouth miracle, that is what a mezzulene is. Typically, this kind of pasta is stuffed with cheese, spinach, mushrooms, etc. But there is no end to creativity when it comes to stuffing this variety because chefs go with a range of combinations including meat, potatoes, beets, sauerkraut, and much more. Tastes best when cooked in pesto or a tomato-based sauce. 
38) Elicoidali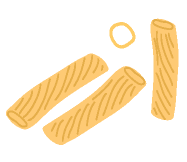 Group: Short Pasta
Now we are probably getting into a zone of the kinds of pasta that are a bit lesser-known, but they are as intriguing as the more popular ones. Elicoidali is a variety that is similar to rigatoni. It is tube-shaped with a hollow interior and the ridges on the exteriors are shaped spirally. This pasta goes well with thick sauces, baked dishes, and casseroles. 
39) Strozzapreti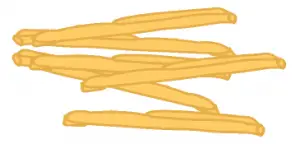 Group: Short Pasta
Strozzapreti is made by cutting the rolled-out dough into thin strips and then twisting them by hand. The result is a shape that looks like an elongated form of cavatelli. The twists help the pasta retain sauce and hence, feel free to cook it in chunky or thick meat sauces as per your liking. The kind of pasta also goes well with sauces with big pieces of veggies in them. 
40) Garganelli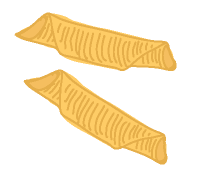 Group: Short Pasta
It resembles penne in that they both have oblong ends, but the specialty of garganelli is that the flap where the pasta is folded to form the cylinder is visible, while in penne it is a smooth cylinder. Garganelli can be both ridged as well as plain and much like penne, it does an excellent job of holding thick sauces within its hollow. However, despite its shape, it is more commonly served with creamy sauces and is often used in broths. 
41) Bigoli

Group: Long Pasta
These thick strands of pasta have a rough texture as traditionally they were made of buckwheat flour. In modern days, however, it is more common to see bigoli made from whole wheat flour. Because of its long shape, bigoli tastes best when paired with oil-based sauces. It is also a core ingredient in the famed dish bigoli in salsa, with anchovies, olive oil, and onions being the key accompaniments. 
42) Tortiglioni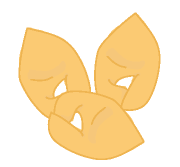 Group: Short Pasta
It is like macaroni but with ridges on the exteriors. It is owing to these ridges that tortiglioni can be paired with much more than cheese. Enjoy a hearty meal by letting thick sauces seep into these hollow pasta-tubes and relish every bit of sauce that gets held up into the ridges. This variety of pasta is also popular in salad recipes because of its "good looks". 
43) Trenette

Group: Long Pasta
Similar to linguine, trenette is a form of pasta that is long, thin, and delicious when paired with the right kind of sauce. It is somewhat thinner than linguine so heavy sauces are a big no. The best mate for trenette would be a classic pesto sauce. Other options include seafood-based sauces and any other thin sauces that you can think of. 
44) Passatelli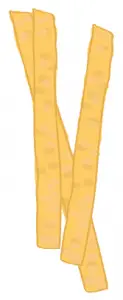 Group: Short Pasta 
Short, round, and thin, this is a unique pasta that has breadcrumbs as one of the ingredients. This ingredient, along with the process of making the pasta, gives it a rough exterior. It looks like grated wheat dough, and because of its size and shape, is more commonly used in soups. It is customary to top off a bowl of passatelli soup with finely grated parmesan. 
45) Lasagnette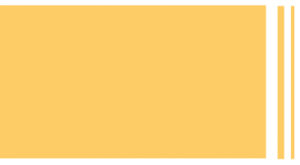 Group: Sheet/Ribbon Pasta
Just as the name suggests, lasagnette is like lasagna except that it is narrower and thinner, resembling a ribbon. Lasagnette can be cut into straight ribbons or ribbons with ridged edges. Either way, it is best to pair this variety of pasta with oil-based sauces or light, tomato-based sauces. A common way to cook them is how you would cook a dish out of fettuccine. 
46) Taglierini

Group: Long Pasta
It is similar to tagliatelle but is a lot thinner. You will perhaps know it from its dark yellow color, which is rendered by the use of a larger proportion of eggs as compared to flour. Just because it is a form of long pasta, does not mean you cannot have a hearty sauce with it. A well-made thick sauce prepared from roasted meat tastes heavenly with a plate of taglierini.  
47) Calamarata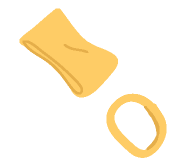 Group: Short Pasta
This small, ring-shaped pasta resembles the cute, circular cooked sea animal known as squid. It is because of this appearance that calamarata is a favorite in a seafood kitchen. Pair it with your favorite thick seafood sauce that can be well-retained by the hole in the middle of this pasta shape. Clams, shrimp, and of course squid are top ingredients to think of when preparing a sauce. 
48) Sagne

Group: Short Pasta
If you chop the tagliatelle into small, rectangular pieces, the result is what sagne would look like. Sagne is usually prepared with thin sauces and is famously used with various types of beans, such as borlotti beans, grass peas, cannellini beans, chickpeas, and on. Also, be sure to add some rich-tasting veggies and herbs such as asparagus and garlic for that ultimate, heavenly flavor. 
49) Casoncelli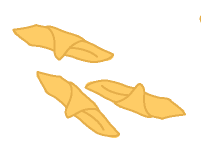 Group: Stuffed Pasta
Another wondrous hand-made pasta that resembles a half-moon that is slightly dented in the middle. The filling can be of various types, but the most common ones are breadcrumbs, cheese, and meat. As with most varieties of stuffed pasta, casoncelli also does well when served in a thin sauce, such as melted butter or drizzles of oil. You can add it to your soup as well. 
50) Mafaldine

Group: Ribbon Pasta
Mafaldine is elegant to look at with waves around the edges of the ribbon that enables the pasta to hold copious amounts of sauce. The wavy and the smooth parts of the ribbon have different consistencies and hence the pasta ranks high in versatility. Go for it if you are in the mood for seafood sauces, meaty sauces, or just want to pair it with some simple mushrooms topped with cheese. 
Your Sumptuous Pasta Dinner Awaits You
So, there you have it. 50 different varieties of pasta to pick from for your dinner plans tonight. When in a hurry, go for the more popular dried versions of pasta that just need a drizzle of oil or a tomato sauce. On lazy weekend afternoons, try out the fresh, hand-rolled pasta varieties that call for an elaborately prepared meaty sauce. No matter what the occasion is, you will find at least one kind of pasta that fits the sauce you have ready in your kitchen for you to have a hearty and sumptuous meal.